Dropped England fly-half Danny Cipriani is paying for the "0.5% of doubt" caused by his off-field activities says World Cup winner Matt Dawson.
Cipriani started August's 25-10 win over South Africa, but was involved in an nightclub incident in August and left out of Thursday's 33-man squad.
"Eddie Jones is not the first coach to have the mentality that you need 23 players you can trust under the most extreme pressure," Dawson said.
"I am talking about the 0.5% of doubt."
The 30-year-old, who signed for Gloucester in the summer, plead guilty to common assault and resisting arrest after the incident on a pre-season tour of Jersey.
Jones said Cipriani's absence from the training squad was "100%" based on his on-pitch performances and that he might yet regain his place for the autumn internationals.
But Dawson thinks the England coach is tiring of the attention that accompanies Cipriani and his lengthy history of off-field misdemeanours.
"Could England go to the World Cup and afford to have a story come out about Cipriani be it rugby, social media, or something from years ago that the media are hanging onto?" asked Dawson on 5 live Rugby.
"I am getting more and more convinced that Eddie Jones just doesn't want the hassle, Danny is playing well. Everyone can see it, but the dynamics of the team are the priority for success down in Japan."
Jones warned Cipriani before the tour of South Africa that he would be sent home if he proved a disruptive influence.
"When you have had that signal cry of 'don't make any more mistakes' and you do trip up, Jones would not be human not to have that somewhere in your psyche when it comes to selection," added former England fly-half Paul Grayson on 5 live.
Jones decision is 'lunacy'
However Jones' decision to omit Cipriani despite his eye-catching performances in Gloucester's unbeaten start to the Premiership season has been criticised in other quarters.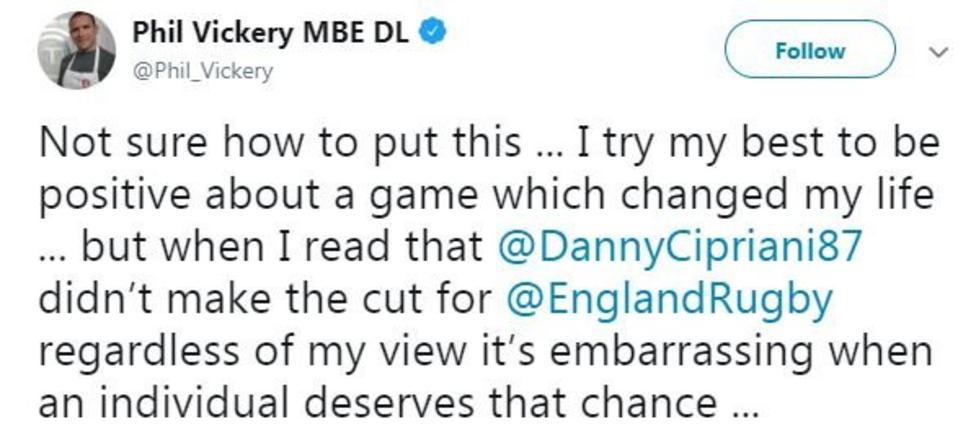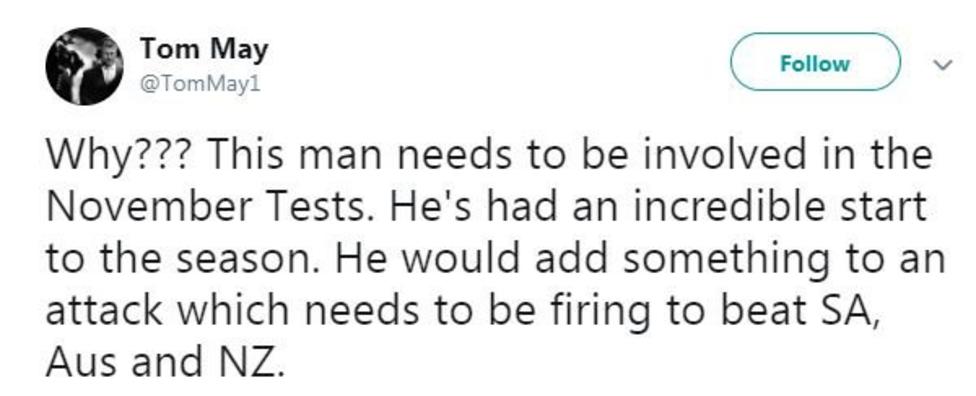 Cipriani himself has 'liked' two tweets questioning his omission…