Swigging shots of his own whiskey, Conor McGregor rolled from showman to salesman to angry opponent in a full-throttle news conference in New York.
The Irishman will return to the octagon for the first time in almost two years at UFC 229 on 6 October.
He faces the man who succeeded him as UFC lightweight champion, the undefeated Khabib Nurmagomedov.
"This is what I expected," said Nurmagomedov. "He's gonna talk."
And he did…
McGregor ranted about how the Russian would be "dead right now" if they had come to blows after an incident in April, what he learned from his mega-money boxing bout with Floyd Mayweather, fighting for fun and not for money, as well as lauding his new whiskey venture.
'He would be dead right now'
In July, McGregor was sentenced to five days of community service in the United States after pleading guilty to disorderly conduct over an incident in April at Brooklyn's Barclays Center after a UFC media day.
It occurred after an alleged confrontation between McGregor's friend Artem Lobov and Nurmagomedov, with McGregor throwing a metal dolly into the window of a bus carrying fighters, including the Russian.
McGregor is also being sued by another UFC fighter on board, Michael Chiesa, who claims he suffered physical, emotional and financial damage.
"I came back for the love of this, to come and shut this man up – a little rat, a little weasel, a little hard man in groups," said McGregor, who has agreed a new six-fight deal with the UFC that includes the Nurmagomedov bout.
"A man who grows in numbers but on his own and when confronted in a similar situation, cowers away. Did you not see me outside the bus? I showed you my hands – no weapons.
"To let him know I came unarmed. Step off the bus. You talked the big game, now I'm here. He done nothing. Hid and cowered behind women and caused what happened to happen.
"I just thank the Lord Jesus Christ that that man had not got the balls to step foot off that bus, or that the bus door did not open, because if that bus door had opened, this man would be dead right now.
"He would be in a box and I would be in a cell and we would not have this great fight ahead of us."
'I am set for life, I'm here to enjoy this'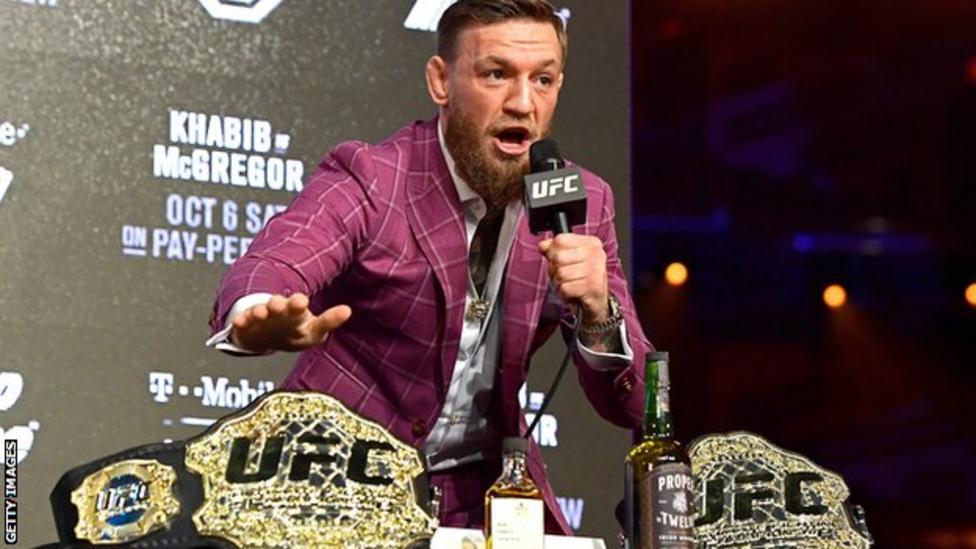 McGregor's venture into boxing last year ended in a defeat by former five-weight world champion Mayweather, but it generated more than £450mand there were suggestions the Irishman could retire.
When the fight was mentioned at Thursday's news conference, Nurmagomedov described himself as "the Floyd Mayweather of MMA".
"I'm going to maul you. After this fight he is going to go back to boxing," added Nurmagomedov. "You come for money, I come for legacy."
Laughing that suggestion off, McGregor responded: "I don't have to fight for money no more, I have made so much. Don't get me wrong, I could've retired from the boxing.
"I am set for life, I don't have to be here. I am here to enjoy this. I am going to love putting you out of your misery and stomping on your head."
But the 30-year-old did say he had learned from his time in the ring with boxing great Mayweather.
"Of course. It was a great boxing match. At 30 minutes, it was my longest contest," he said.
"I learned some things of course. With every fight, you learn and grow. I was very happy with the experience as a whole and, of course, you'll see on 6 October the lessons I have learned."
'He thinks whiskey's going to help him?'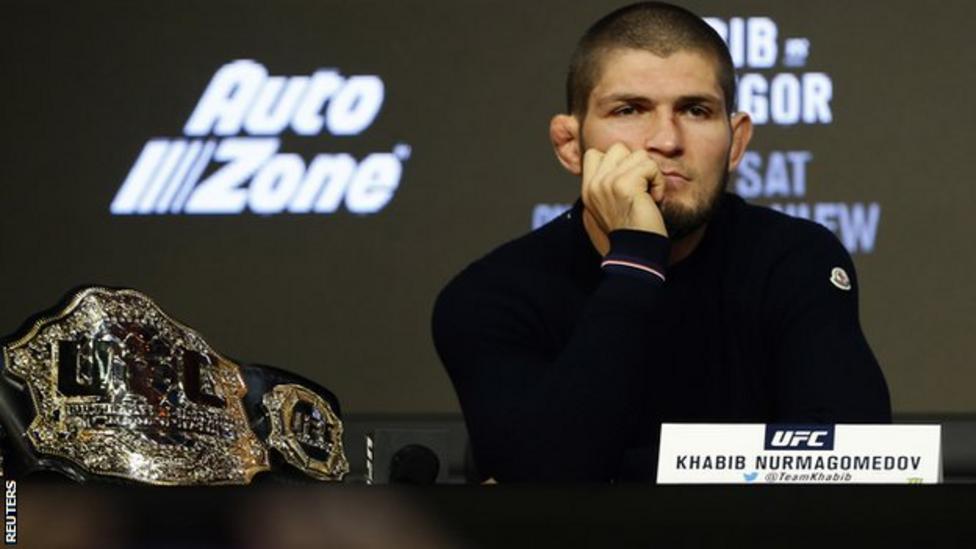 Former two-weight world champion McGregor was stripped of both titles after failing to defend either belt and has not fought since winning the UFC lightweight title from Eddie Alvarez at UFC 205 in New York in November 2016.
"Two years outside of the UFC's octagon, not two years out of the fighting octagon. I fight every day of my life," said McGregor about his absence.
"I am very well coached. We are ready for war. We are ready for all outcomes, all situations, all scenarios. We are going to go out and enjoy this contest."
Asked for his prediction, McGregor added: "Domination. His head bouncing off the canvas. As long as it takes.
"I've seen this man wobble many times. I know he's afraid of a smack. And if you're afraid of a smack off me, a smack will feel like a double-barrel shot gun.
"But I have been wrong before. I will be prepared for five rounds. You're looking at a fighting veteran, I have come through it all. I've been on both sides of the world."
Nurmagomedov was coy over his own predictions, but did take a jibe at McGregor's latest project as the Irishman sat with bottles of his new whiskey in front of him.
"He thinks whiskey's going to help him?" said the Russian.
Talking about his new business venture, McGregor added: "This is called prize fighting, but thankfully I am such a crafty individual with my other entities and my entire game as a whole.
"I am coming to take over the whiskey business. This is a true beast I have in my possession."